Natural Dog Training Consultations
by Ellen Landauer
Natural Dog Training Consultations provide a golden opportunity for you to solve behavior problems and enjoy a bond the like of which you may never have imagined.
Natural Dog Training Consultations address puppy/dog biting, jumping, house training, aggression, running away, destructiveness, and more.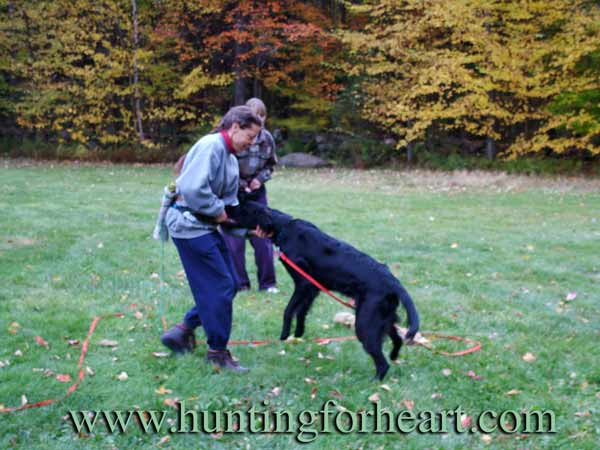 PHOTO ABOVE: Ellen Landauer channeling the energy of a dog whose owner was terrified because he was constantly trying to bite her.
The owner was ready to get rid of the dog - a young, intact Flat Coated Retriever. By learning how to harness her dog's prey drive, she was able to keep him.

---
Natural Dog Training Consultations
How We Proceed
---
A training client in another country was kind enough to allow me to share our consultations to help him and his dog:
Conversation With a Natural Dog Training Client
---
Natural Dog Training Consultations: Once your payment goes through, you will be sent a questionnaire to fill out to provide some background on you and your dog.
This will help save time so we can work more on problem-solving during your phone consultation.
**In reply to the order confirmation email, you are most welcome (and encouraged) to send short video clips and/or photos. These will help me have a better feel for your dog's nature, stress level and temperament. 
BUY 'Hunting for Heart' and
Rediscover Your Primordial Bond With Dogs